'Distressed Finish' Gourds
---
"I LOVE the 'Distressed' gourds! I've bought unwashed gourds from other farms but they are NOTHING like the quality gourds you sell…[yours] are thick-shelled with beautiful shapes, and even the skin has a more lovely 'mottled' look to it…I'm very happy with my purchase. Thank you for the artwork samples, too!"
-Barbara Anne, Patchogue, NY
Box of 8 'Distressed Finish' Gourds (Mixed Shapes)
Mixed Sizes, approx. 5-9.9 inches in diameter.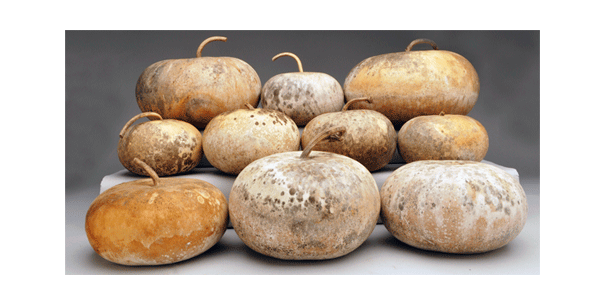 Box of 10 'Distressed Finish' Canteen Gourds
Mixed Sizes, approx. 5-9.9 inches in diameter.
These 'Distressed Finish' gourds are beautiful, thick-shelled gourds of superior quality and shape, and like all of our Pre-Boxed gourds they come with a 100% satisfaction guarantee!*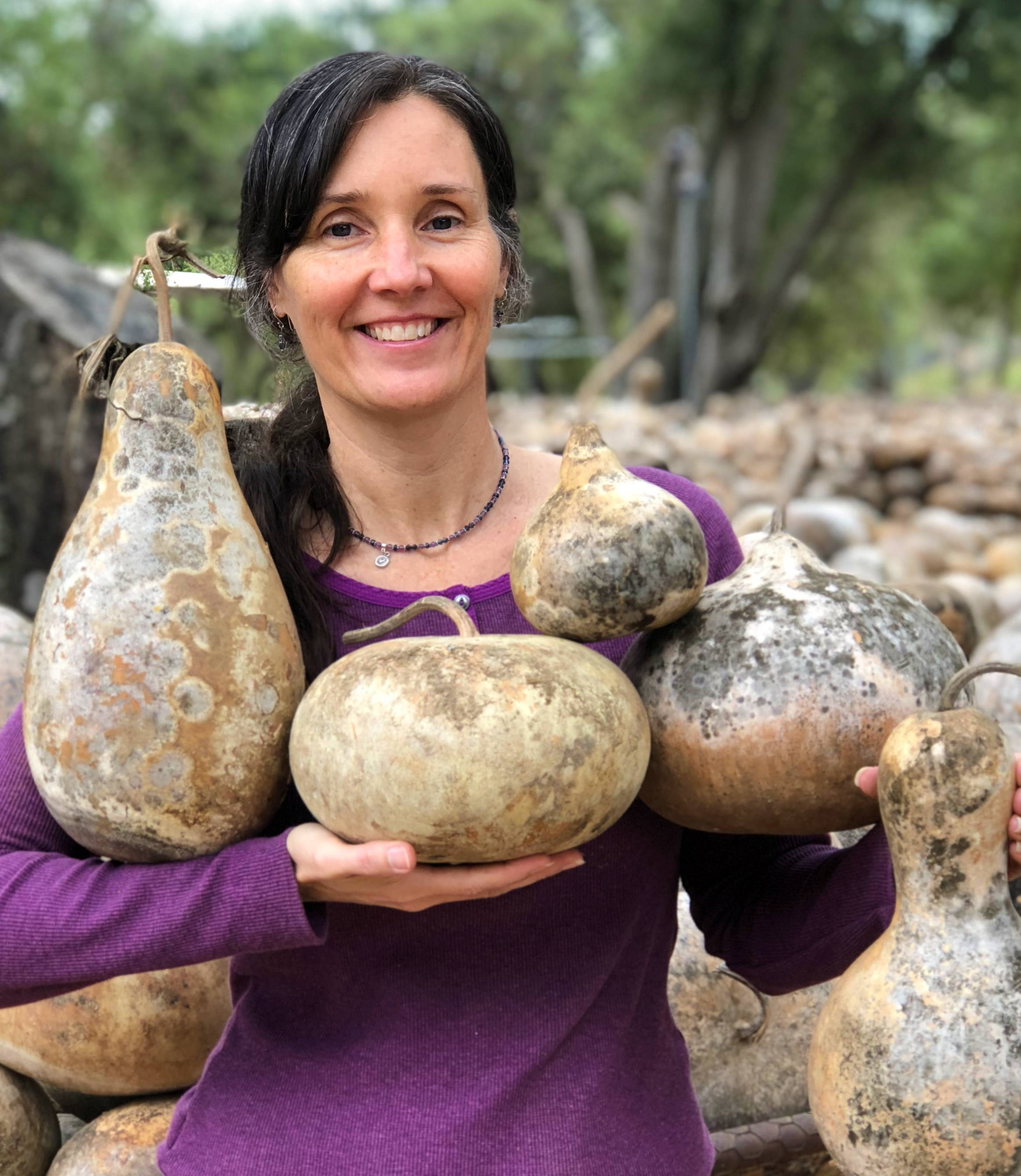 These "Distressed Finish" Gourds are perfect for creating that fabulous "distressed finish" look with your gourd art! (and they are ONLY available for a few months after April harvest time!)
'Distressed Finish' gourds are different from regular unwashed gourds where the skin has already broken down completely and turned all black; instead they have a lighter colored, mottled skin that can be lightly sanded and used to create stunning looks in your gourd art!
Shown above, a 'Distressed Finish' gourd on the left vs. an 'unwashed' gourd on the right.

The 'Distressed Finish' gourd still has some of the lighter-colored, skin on it, whereas the regular unwashed gourd has skin that has turned black over time. Be sure to keep your 'Distressed Finish' gourd inside out of the elements to keep it from turning black too quickly and craft and seal it as soon as possible (which will stop it from turning color).

It's the lighter color of the surface and the beautiful mottling on the skin as it just begins to break down that makes for a great "rustic" look on your gourds.
If you'd like to keep this look on your gourds, we recommend creating your project and applying the final varnish as soon as possible since the waxy skin will continue to break down with time and weather, giving the dried skin a darker look.
For the same reason, we recommend keeping your 'distressed finish' gourds inside away from harsh climate. The skin will usually break down further within 4-8 weeks, depending on climate conditions, so try to use them before that time.
Shown here, beautiful Canteen Gourd Vase with 'Petroglyphs,' by Christy Barajas. This 'Distressed Finish' gourd was made to look like a stone wall - See details, click here!
More about this art piece by Christy Barajas: The artist was inspired by this image of the deep cracks in the stone and decided to mimic the look by carving a faux crack down the middle of the gourd, and more cracking on the sides.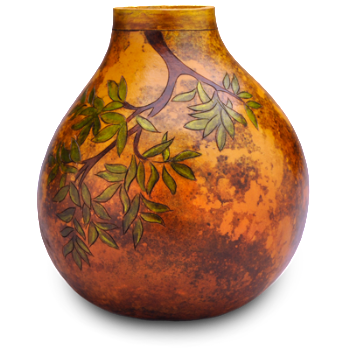 To get this look, lightly sand your gourd with 320-grit sand paper to knock off any loose dirt or skin, then spray with a high-gloss varnish. A wipe on varnish is not recommended for this as it will remove some of the dried gourd skin. [Always wear a face mask when cleaning or sanding gourds.]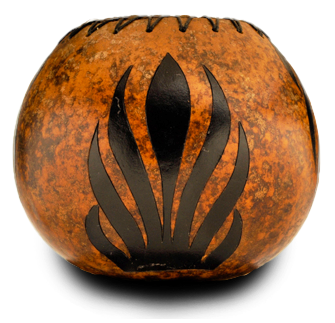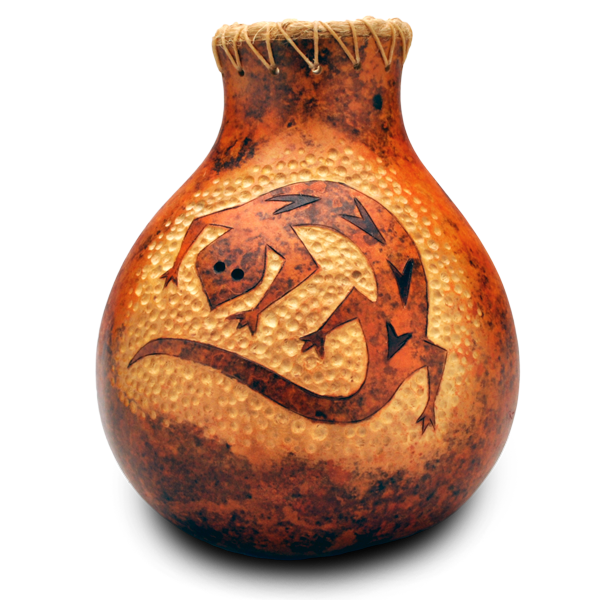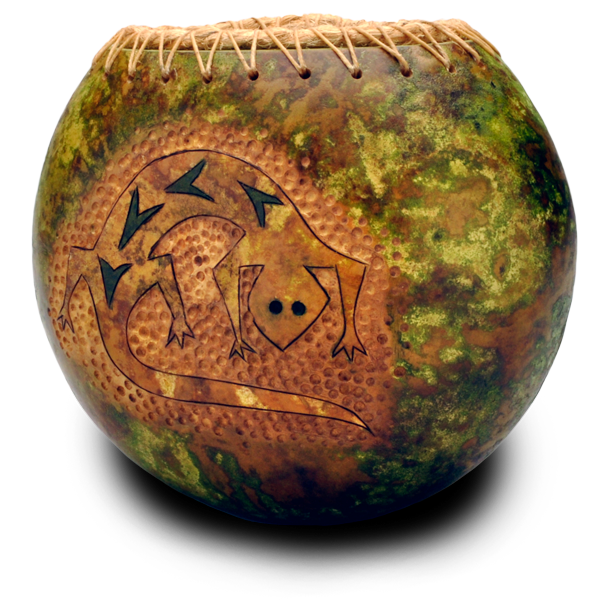 Pictured above gourd art by Georgiana Rae; created from 'Distressed Finish' gourds.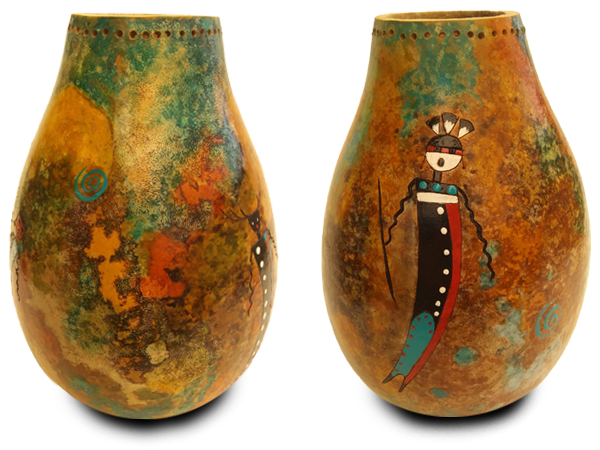 Shown above, 'Distressed Finish' gourd art by Pamala Redhawk; Pam calls these "Spirit Gourds" because she says the distressed finish on the gourds shows her all kinds of faces within the patterns!
Distressed Finish' Gourds are very high quality, beautifully-shaped gourds with thick shells, perfect for the discriminating gourd artist who needs a quality product to create with!
Please Note: Your 'Distressed Finish' Gourd Box may have a gourd with a small crack or blemish hidden by the skin of the gourd.
Gourds are a natural product and for this item we consider such a flaw to be something that compliments the "distressed" or "rustic" look the gourds are intended for. Also, we do offer a 100% satisfaction guarantee!*
*Refunds for Pre-Boxed gourds are given on the entire box, not individual gourds. Sorry, we cannot refund individual gourds from a Pre-Boxed group because the price reduction offered on these boxes (as compared to Custom Order gourds) is based on the group of gourds as a whole.
Please note: Product photos are meant as a general image of the item and do not represent the exact gourds you will receive.