The Welburn Gourd Farm is open to the public year round, Monday - Saturday, 10am to 4pm, and invites you to visit and get your gourds at wholesale prices!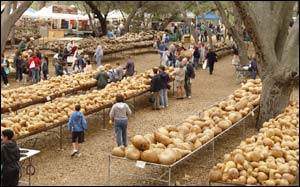 If you've never experienced hundreds of thousands of gourds piled up nearly as far as the eye can see, you're in for a treat! For gourd lovers, its like being a kid in a candy store!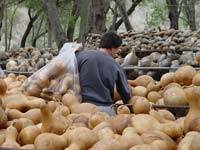 When you visit the Welburn Gourd Farm, you will find all the gourds conveniently placed in racks so you can shop leisurely without having to strain your back bending over constantly to pick up gourds! Too see a list of gourd prices, please visit the pricing page.
Many people mistakenly think the gourds are put in the shopping racks for drying, but the gourds are actually left to dry in the fields (see below) and brought in only after they are completely "cured".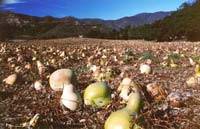 Because green gourds can crack during the drying process, Welburn Gourd Farm only sells gourds that have already been cured (dried). To see how gourds are grown, visit the All About Gourds Page!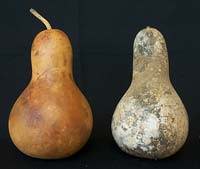 A cleaned gourd on left, and uncleaned gourd on right.
Gourds at the farm may be purchased either cleaned or uncleaned at the farm and are very easy to clean!
The Welburn Gourd Farm is a year-round operation located on a quiet country road in Southern California. For more than 30 years, the farm has been growing hard-shell gourds for artists, crafters and musicians.
The farm is completely organic and uses no harmful fertilizers or pesticides so as to preserve the natural state of the surrounding land and water supplies and your health!
Shown below, The Welburn Gourd Fields, located on the historic Garnsey Ranch in De Luz Canyon (Fallbrook, CA)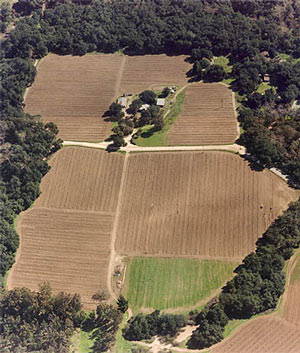 Although you cannot see them in the above photo, there are actually hundreds of thousands of gourds layed out in rows (to dry) in these fields. To find out more about how gourds grow and dry visit the All About Gourds Page!
The Welburn Gourd Farm currently has over 60 acres in cultivation and produces one crop of gourds per year, taking from 11 to 12 months to grow and cure its gourds.
Farm Open to the Public 
Monday - Saturday:10:00 a.m. - 4:00 p.m.
Closed:Sundays and holidays
For directions to the farm, Click Here!
We hope you will have the opportunity to experience the Farm for yourself. Not only are the prices better (wholesale as opposed to retail), the selection is amazing and the location is absolutely beautiful. Groups and clubs are always welcome!
To better assist you, please make an appointment for groups of 50 or more persons by calling us at: (760) 728-4271.
We look forward to meeting you either in person at the Farm, or speaking with you on the phone!
Not able to visit the farm? Chekout Gourds by the Box for a great list of items available through mail order!