If you have ever tried to make your own Gourd Ornaments, you know how time consuming it can be to drill holes in your gourds to attach a hanger, with the possibility of cracking your gourd. But with the Craft-Ready Gourd Ornaments, the hard work has been done for you, so you can get right to decorating your ornaments, or leave them natural and hang them directly on your tree!
Each gourd has been carefully hand selected and cut to fit the ornament topper (the size of the topper varies because it must fit the neck of the gourd and each gourd is different).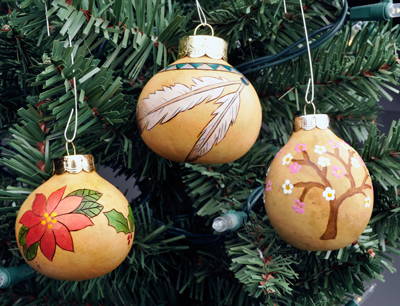 Pictured left: Craft-Ready Gourd Ornaments painted using GourdMaster™ Ink Dyes and Transparent Acrylics, by Christy Barajas. See how Christy made these adorable ornaments in the video below!
Watch the Video Below to See Fun Ways to Create Gourd Ornaments!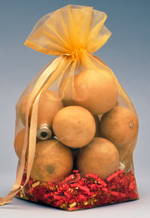 Get 2 FREE Gifts with each package of Craft-Ready Ornament Gourds! A FREE pack of 50 Ornament Hooks and a FREE decorative storage bag, which can also be used as a gift bag if you decide to give them as-is, a beautiful, natural set of ornaments!
Don't Forget the Gourd Ornaments Stick 'n Burn Pack for Just $7.95!