---
Gourd art by Christy Barajas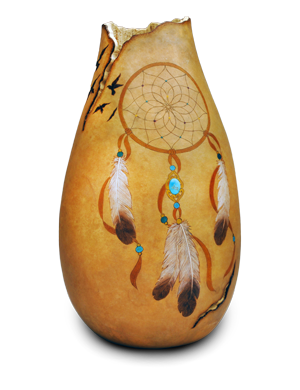 The first step is selecting a Medium Size Tall Body Gourd (or you can use a different shape gourd and modify the layout of your design). Next, cut your gourd open using a Jigsaw (I like the Proxxon Super Jigsaw because it is small and easy to handle, and it is high-quality [built in Germany] and will last a long time).
The design can be modified to fit your gourd; shown here, a different version of the dreamcatcher with feathers that I did on a smaller, shorter gourd.
Clean the inside of the gourd using an Easy Cleaner Ball that is big enough for the opening of your gourd, either the 1.25" or 2" long shaft cleaner ball. Always wear a face mask or respirator (preferable a respirator) and eye protection when cutting and cleaning gourds.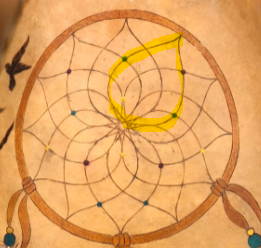 Shown here: Close-up of the dreamcatcher design with the 'teardrop' pattern highlighted.
To draw your own dream catcher, first draw the frame of the dreamcatcher by using a needle shoe compass (has a pencil at one end) to get an even circle. Draw a second circle right next to it (about 1/8 inch apart). Then draw a small circle in the center of the dream catcher about 1/8-inch in diameter.
With a pencil, mark around the frame of the dreamcatcher so it is divided into 12 even sections - you can mark the spots as if you were marking the areas where the numbers go on a clock. Draw a tear drop shape starting from each section and end it where you drew the small circle in the middle (see photo). As you start drawing your tear drop shapes you can start seeing the web of the dreamcatcher transform!
Once you have your pattern drawn on your gourd (or have your Stick n Burn image placed where you want it), you need to woodburn it. To woodburn the deamcatcher evenly, to start by burning the frame first. After you woodburn the frame you want to burn each individual teardrop completely, then move on to the next teardrop.
The reason you want to do this is so you get even, consistent lines on each teardrop shape. If you only burn one section of the teardrop shape and then jump around and burn other parts, your pattern will NOT look right because the lines on each teardrop won't look contiguous.
You can embellish your dreamcatcher design with feathers and also by drawing on some leather cord. I hand-drew the pieces of cord, then used Stick 'n Burn designs for the feathers, but just for the outline of the feathers.
You will want to woodburn all the small lines inside the feathers after you peeled off your stick n' burn. This will make your feathers look more realistic.
When you're done woodburing all your design elements, condition your gourd with Formula 49 by wiping it on with a cotton round or piece of felt (this removes any pencil
lines that might be left as well).
Color your dreamcatcher rim and leather cord using Tan Ink Dye applied with a Fine Tip Applicator. Color the feather using White Ink Dye and Mocha Transparent Acrylic (its important to use these semi-transparent colors and NOT acrylic paint because you want the woodburned lines of your feathers to show through); color one feather at a time so your colors don't dry before you can blend them together.
Start by applying the White Ink Dye on the top two-thirds of the feather; leave the ink dye wet and apply Mocha to the bottom third, then gently blend the colors together a little using a microbrush or cotton swab. Once the color is how you like it, heat set with a heat tool. Continue on using the same steps with your other feathers.
For the turquoise-colored and gold-colored "Beads" on the leather cording and tips of the feathers: I wanted some beads "shiny" so I used Deep Turquoise Metallic Ink and Sassy Gold Metallic Ink; for the lighter-colored turquoise beads that are not shiny I used Aquamarine Transparent Acrylic mixed with a tiny amount of White Ink Dye.
For the "Beads" in the dreamcatcher, I used a Perfect Dot Stylus and dipped it into my GourdMaster Metallic Ink color, then dotted it only my gourd at some of the "junctions" points on my Dreamcatcher (see photo above). I used Deep Turquoise, Sassy Gold, Christmas Red, and Bright Gold Metallic Inks, but you can use any colors you like.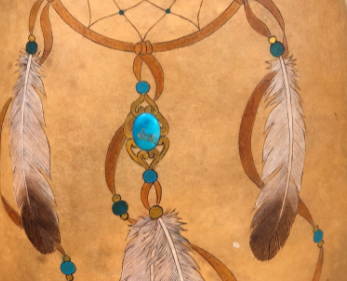 After you're done coloring and heat setting your colors on to your gourd you're ready to do a fancy cut rim and cut out on your gourd.
With a pencil, draw a fancy rim and a "crack" coming down from the rim of your gourd. Using the GourdMaster Pro Carver with a Fili-Point Burr to cut out your rim and crack design. Always wear eye protection and a face mask when cutting and carving on gourds. (You may want to wear ear plugs as well if the sound is bothersome).
After you cut out the design, use a woodburner with a writing pen to shade the very edge of your fancy cut and crack design. I also hand-drew some birds and used the shading
pen to darken them.
If you would like to inlay a real stone cabachon like I did, trace the stone using a pencil, then use the "Dremel 191 Ball Cutter" attached to your Pro Carver or Dremel tool to carve
out the area where you will you'll be inserting the cabochon.
Be careful not to make the area too large and test your stone often for fit when you are carving out the area on your gourd. Or you can do it the easy way and paint your "stone" on using Aquamarine Transparent Acrylic mixed with a small amount of White Ink Dye!
Last you want to seal gourd with GourdMaster Protecting Wax (or GourdMaster Gourd Varnish) for a beautiful natural finish.
See Below for Links to Materials Used in This Project: