Here's why the GourdMaster™ Pro-Carver II is the #1 choice of top gourd artists.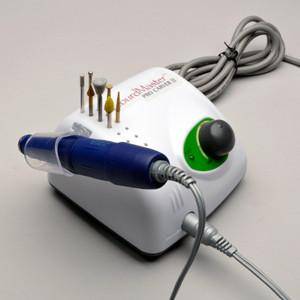 Lightweight, Flexible Connector Cord
The cord that attaches the hand piece to the Pro-Carver II unit is light-weight and flexible, which means it is much easier to hold the hand piece and control it, giving you a smoother final finish on your gourd art pieces.
No more fighting with a heavy-weight connector cord at the end of your hand piece!
Easy Operation
The hand piece includes an easy, 1-click burr attachment and removal system that allows you to change burrs in seconds without the need for additional tools.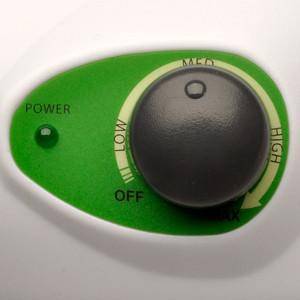 Variable Speed Selection
With our large and easy to see speed dial, you can vary the rotation speed of your burr from slow to a blazing fast 45,000 RPM allowing you to use a wide range of burrs for most any gourd project!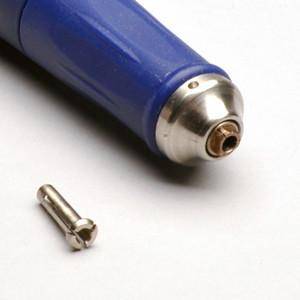 Compatible
The hand piece accepts all the common carving burrs (both 3/32" and 1/8" shanks!) and will also accept most Dremel™ brand burrs too! The included "collet" (shown left) makes it possible to use smaller 3/32" shanks with this hand piece.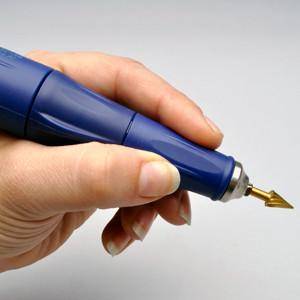 Low Noise Hand Piece Motor
The whisper-quiet motor makes carving more enjoyable, even when carving for hours!
Safer for Your Wrists
The extremely low vibration hand piece is perfect for people with carpal tunnel (or who want to protect themselves from getting carpal tunnel syndrome.)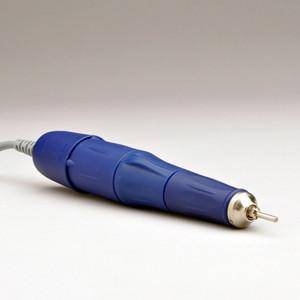 Ultra-High Speed
The hand piece gives you the power and speed you need for smooth, even carving with an ultra-high speed 45,000 RPM hand piece. (RPM = Revolutions Per Minute)
More Precise
The low vibration hand piece means you get a smoother carving experience allowing for more precise, detailed carving!
Convenient Hand Piece Holder
The included clear holder mounts securely on side of the base unit giving you a great place to safely place your hand piece between uses!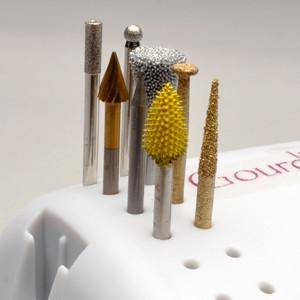 Keep Burrs at Your Fingertips
You can safely store up to 18 burrs on the base unit, keeping them conveniently at your fingertips. No more digging through your toolbox every time you need a burr!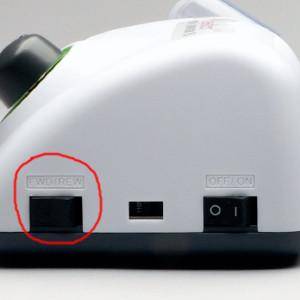 Reversible Motor Direction
You can carve with either hand because the base includes a Reverse switch that allows you to change the rotation direction of your burr! (If using in reverse, make sure the burr you are using will cut in both directions.)
Responsive Foot Pedal For Ultimate Control
The included foot pedal is a customer favorite because it makes it quick and easy to start and stop the hand piece with just a light press on the pedal. This is a life-saver for long carving sessions!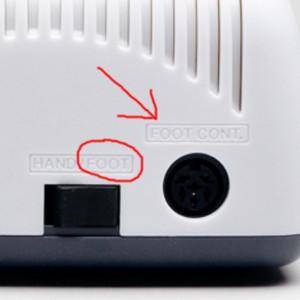 Selectable Hand or Foot Control
Simply plug in the included foot pedal and flip the switch the "Foot" position to use the foot pedal to quickly start and stop your carver!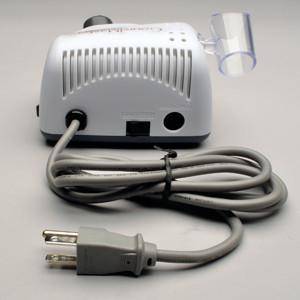 Extra Long Power Cord
The included power cord is more than long enough to reach your power strip while leaving the base unit firmly placed on your work surface. This is not just a good idea, it makes carving safer because your base sits firmly on your work surface!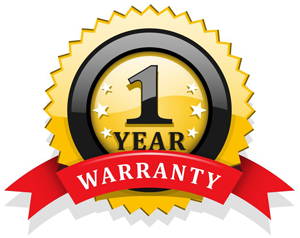 Full 1-Year Warranty
The GourdMaster™ Pro-Carver II will give you years of reliable service and it comes with a full, no questions asked 1-year warranty on parts and labor.